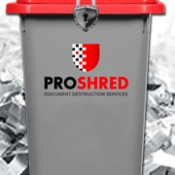 Secure Document Disposal – Who Do You Trust?
Document Shredding Company or Waste Company?
Proshred is a document shredding company, our core business is protecting your information this is what we do and we do it well.
We have noticed there are waste disposal companies now offering document bins and document shredding services. A waste companies core business is waste collection and disposal, which begs the question how are your documents being disposed of?
At Proshred our drivers are police checked, our vehicles are tracked and our staff has been trained how to securely protect and dispose of your documents according to our processes and guidelines, your documents are shredded under surveillance at a secure facility and we take care to make sure the job is done right the first time.
The question I am asking is who would you trust to shred and destroy your confidential documents a waste company or a document destruction business?